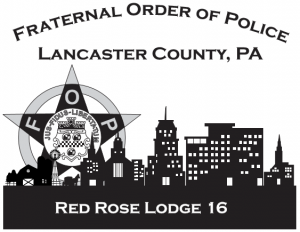 Welcome to the Red Rose Lodge 16 Fraternal Order of Police website. Our lodge serves over 670 active and retired police officers who serve or have served nearly all of Lancaster County's municipalities. Our mission is to provide benefits, services, and camaraderie to our members and their families. The benefits and services are intended to provide our law enforcement community with assisting them in their professional and personal lives.  Our lodge also has a large group of supporters from the civilian community who have joined as "Associate Members." There are over 450 associate members of our local lodge. The associate members can interact with our active members during monthly meetings and during other events throughout each year.
Our current lodge home has been in operation since 1969 and has served our membership well over the decades. Recently we have decided to begin the process of relocating to another property to better serve our membership. Although this process is a work in progress, we have teamed up with community leaders to move our plans forward. We intend to hold special fund-raising events in the near future to assist us in achieving our financial goals to acquire a property and either build or remodel an existing structure on the land we purchase.
Red Rose Lodge 16 has also partnered with Civic Awareness, Inc. out of Philadelphia to solicit funds from the public by both telephone calls and mailings. Should you have any issues or problems with the solicitation program, kindly email me at president@redroselodge16fop.com. We hope you will find our website useful and interesting. Please know that much of our information is protected for members only due to the nature of the content being confidential to our membership. Our executive board works extremely hard for our members to continue providing for our brother and sister officers across the county as best we can. Thank you for visiting our site and we appreciate the support of our members from the Lancaster County community.
Please take a few minutes to listen to the Paul Harvey "Policeman" video.  Mr. Harvey describes a policeman decades ago and his words couldn't be more accurate today than they were years ago.  Brothers and Sisters be well, be safe, take care of one another, and keep doing your best even though others can't or won't see your good deeds, hard work,  and heroic efforts day in and day out.
Regards,
Christopher M. Erb
President
Red Rose Lodge 16, F.O.P.